The Villa
*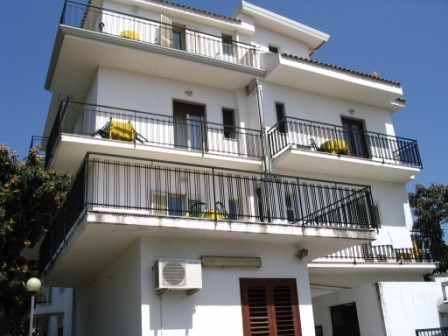 Villa Sant'Antonio was located in the beautiful tourist resort of Giardini Naxos in 1980 by the work and will of Mrs . Angelina . We reserve to our customers a warm welcome to guarantee a holiday in the most complete and absolute relaxation .. From our structure you can reach in a few steps the archaeological excavations, the free or private beaches, the historic center, bars, restaurants, pizzerias, and the renowned resorts of Taormina, Castelmola, Gole D'Alcantera, Savoca and much more .... in short, everything you need to make your stay unique!  

Ideally located near some of the main points of interest of Giardini Naxos, such as Castello di Schisò (0.2 km) and Church of San Pancrazio (0.7 km).
The rooms offer a flat-screen TV, air conditioning, and a desk, and getting online is possible, as free wifi is available, allowing you to rest and refresh with ease.
Pensione Villa Sant'Antonio features luggage storage. In addition, as a valued Villa Sant'Antonio guest, you can enjoy free breakfast that is available on-site. Guests traveling by car will have access to free parking.
During your visit, be sure to check out a popular Monument and statue like Nike of Kalkis, which is a short distance from the hotel.
We look forward to welcoming you to Giardini Naxos.


Halfway between Catania and Messina, Giardini Naxos can be reached in just under an hour from the Etna airport of Fontanarossa. High-ranking restaurants, pizzerias, bars, sophisticated discos, elegant and rustic venues that preserve traditional elements of Sicilian culture. The contrasts, even strident, that have characterized the economic and social life of Sicily, are clearly represented in Giardini Naxos by the presence of monumental architecture of the end of the century, next to poorer buildings, but rich in color and ornamental motifs that escape any official cultural matrix, but spontaneous decorative expression of the Mediterranean fishing village. There is no shortage of stately villas, once reserved for the holiday of the wealthiest classes. A short distance away, the vestiges of the past, such as the Spanish defensive bastion of the ' 600 surprisingly integrated in perfect harmony with the surrounding environment.